Focusing on how your website works and how your users get things done on it is all covered by a website developer. Website development is essentially the creation and administration of the back-end of a website, encompassing the programming and interactions on a web page. Canberra Web's developers are specifically dedicated to website development and therefore focused on the entire development process from conception to completion. Our Canberra Web website developers work to get your website working they way it needs to.
Our developers are website design and graphic design savvy and are therefore able to convey to the design team their ideas and suggestions so that all aspects of your website are simultaneously quality-engineered for continuity.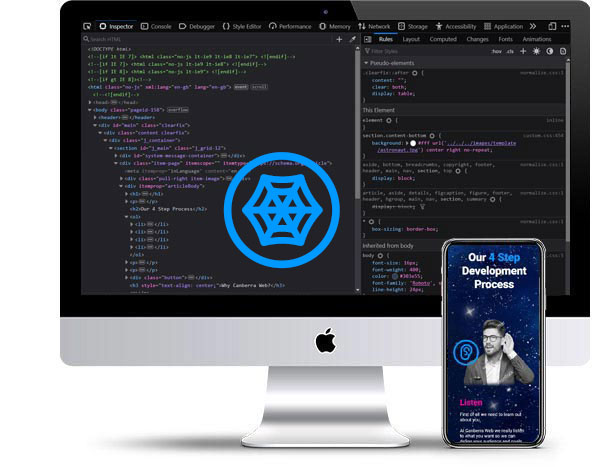 When you look for someone to build a website for you, you need to know that they can design and develop your website to your needs. With Canberra Web, you can be confident that we get the job done for you to your specifications and satisfaction; giving you peace of mind!
The development process covers all of the essential angles in setting up a fully functional, user friendly site. Canberra Web's preferred approach to drawing up your websites blue-print is through a friendly face-to-face meeting so that your needs and objectives and your target audience are clearly defined.
Our development process covers 4 Steps:
Objectives & Target Audience
Features & Keyword Integration
Development & Testing
Deployment & Monitoring
A lot of website developers today will try to amaze you with their long and detailed development processes. At Canberra Web, we keep things concise and coherent so that you know what we are doing for you right from the word go!
Building a functional prototype of your website
At this stage, Canberra Web takes the blueprint made up of all the individual elements touched on during our meeting with you and creates a functional prototype of your Web site. Starting with a home page encompassing your objectives, a user friendly menu is assembled which lists content headings such as your products page, services page , FAQ page, contact page and so on.
Your Web site at this stage is almost complete! Our developers straighten out any kinks during the testing process. We make sure that the functionality of the interface is of a high standard, the forms and other scripts are responding correctly and compatibility with search browsers shows continuity ensuring that your website is optimised and up to date with recent browser versions.
Going live, post development appraisal and making adjustments
Once you give your web designer final approval, it is time to deliver the site. An FTP (File Transfer Protocol) program is used to upload the web site files to your server. Most web designers offer domain name registration and web hosting services as well. Once these accounts have been setup, and your web site uploaded to the server, the site should be put through one last run-through. This is just precautionary, to confirm that all files have been uploaded correctly, and that the site continues to be fully functional.
This marks the official launch of your site, as it is now viewable to the public.
Take a look at our Portfolio and read our testimonials pages to familiarise yourself with our work and our reviews.