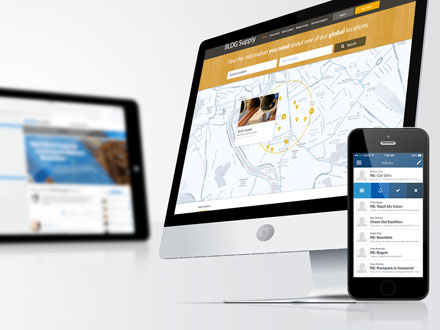 A website refers to a location that hosts a page or several pages that are often on a particular topic, e.g. a business or organisations products and services. A website is accessed via a URL (Uniform Resource Locator) online from any computer connected to the internet. Websites are typically made up of static pages with low interactivity.
Many people struggle to differentiate between a web application (web app) and a website.
A web app can exist on the internet or on local intranets. When available on the internet, a web app is often hosted as a separate page on a website. In comparison to a website, it is more difficult to build a web app as it is more resource intensive being made up of lots of dynamic pages with high interactivity.
Your website re-sized for mobile phones, tablets and desktops!
Web apps can be accessed using smart phones and devices anywhere as long as there is a working internet connection. Without the hassle of installing software on different devices, browse web app ready websites instantly. Static website pages are frustrating for on the go users. Make sure that your website meets the standards of todays advanced online market and talk to us at Canberra Web about a multi-device compatible website package, tailored to suit all your requirements.
It's All About Mobility, Get Your Website Mobile-Optimised for iPhone, Android & Microsoft Phone!
Our programming experts at Canberra Web build more than websites, we create superior web applications that transform your online business or organisations interactivity which in turn greatly improves the user experience on all browser compatible devices. What we do at Canberra Web is endeavour to make sure that your website is delivered to the ever-growing mobile audience with customised applications tailored by our team!