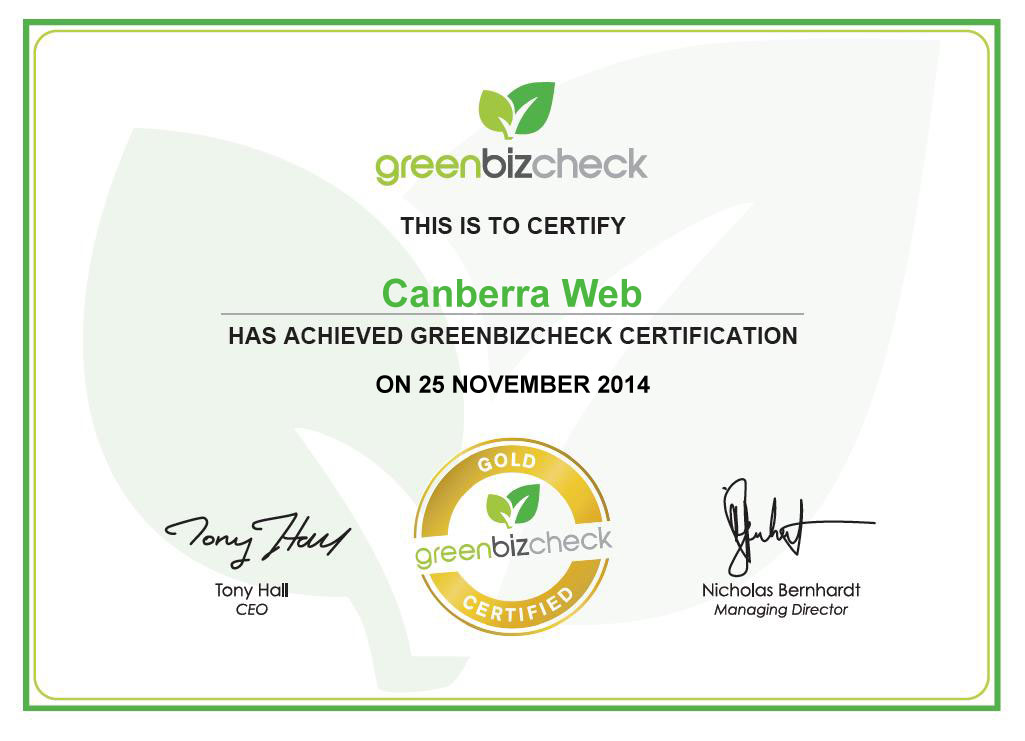 Canberra Web is local business made up of a specialised, young team of Canberra based web designers who build & maintain quality websites. We are also the first certified sustainable web design business in Canberra having just been certified to GreenBizCheck Gold Standard.
A great deal of energy is consumed through using servers and IT equipment. Our business is powered by renewable energy. We conduct our business in a way that minimises the impact on the environment while designing great looking, search engine optimised websites for our clients.
We do this through the following actions:
100% renewable energy installed on our rooftop.
Use efficient lighting such as LED lighting
Use Energy Star equipment
Use all non-toxic cleaners
Use 100% recycled, unbleached paper products and minimise paper use
Recycle all paper, glass, metal, cardboard and plastics that are accepted
Compost food in the office
Don't use water bottles - use filtered water instead
Print drafts on the back-side of used paper
Conduct most correspondence via email or phone with minimal driving
Purchase used equipment, furniture and office supplies whenever possible and donate unused items to charity
Becoming a Sustainable Business is a no-brainer, a win-win situation that saves you money and protects the environment. Customers appreciate our being a Green Business.

Shaun Matthews - Owner, CanberraWeb
Find out more about GreenBizCheck Certification here.